You have considered your desire to have an exterior living space. You are looking for a project that will compliment your home and as an extension of your living space. Amongst many outdoor entertainment structures, the timber built deck is the most popular exterior home improvement that not only adds to the value of your home, but provides a focal point for enjoying the outdoors.
You'll want to carefully consider the design elements that go into your deck.  It  should include the features that match your lifestyle and complement the design of your house. Planning is the most important part of building a deck because, chances are, and you will be living with your design for a long time. How You Plan to Use Your Deck? The most important consideration in your deck design is how you plan to use it. Do you entertain frequently, and if so, how large a group will you need space for? What kind of seating will you need-would you or your guests be more comfortable on built-in benches or patio furniture? Do you want the space arranged to accommodate conversations between small groups or in one large common area? Will you need adequate lighting to entertain at night? Do you want a screened in area? Or are there future plans for that Hot tub? Try to imagine all the ways you'd like to use your deck, because most design elements will be based on those kinds of preferences.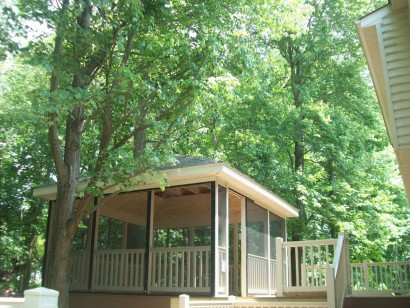 These are RVC's  five points to consider when designing a deck:
1. Determine the materials you choose by your environment. Consider the surface texture and color of the product. Remember that children, pets and furniture may scratch the surface of your deck. Also, make sure the deck surface can stand up to abuse or scratches; that these scratches can be masked or reduced in appearance. You should consider maintenance when considering materials. What products are going to save you time and cash in the long run?
2. If your deck is a place that you use for entertaining, make sure it will be low maintenance so you can spend more time with your guests and less with yearly maintenance. Design the deck to allow for people to move freely from the deck to the house, including wide stairs to any garden areas or exits. Plan railing, benches, planters and other decorative accessories on the deck to create an inviting surrounding for friends and family. Take in consideration a ramp or wider stairs for handicap or Age in place consideration.
3. The height of the deck from the ground is determined by the position of the access to the house, which will affect the design, function and look of your deck. From second story walkouts to low lying decks, choose your material to fit the form and functionality of the deck. Manufacturers have traditional 2 X 6 and 5/4 Radius Edge boards as well as a newer 5/4 Tongue and Groove flooring. All deck boards have their appropriate applications. Also, make sure the board performs to the best of its ability with proper joist spacing and installation. There are also many forms of waterproofing under decks to consider.
4. A deck can be any shape you want, and in fact, simple changes like an angled corner or a 45-degree decking pattern can dress up a house with a long, plain wall. Of course, a more complicated deck is more difficult to build and may require more materials. You can also add visual interest by wrapping the deck around a corner, adding built-in benches, integrating a fence or screen on one side or even adding an overhead screen.
5.  Deck materials must not only be resistant to decay and insect damage but also withstand the effects of water and sun. Standard construction lumber such as fir, pine or spruce may be treated to protect it from rot, but it won't hold up under extreme weather conditions or the ultraviolet rays in sunlight. Any Contractor or retailer should set the right expectation of the material in service. After the product has been installed properly, what can you expect for years to come? Decks are built out in the elements. All exterior products are subject to sun, wind, rain and snow, along with regular use. The sun's UV rays will discolor any surface including composites and vinyl.
We always suggest you measure the size you want on your lawn. Drive stakes or the family tent poles at the approximate corners, then tie string (maybe from that old kit that is in the garage) between them at about the height of the railings. Set your lawn furniture in the area to get an idea of how the space will work. The most common mistake people make is building a deck too small. The difference in cost between a deck that is a little too small and one that is the right size usually isn't as much as you might think.
Considering these topics will help develop not only the proper deck size but understanding of use but also helps in eliminating surprises. Make sure you keep a small fund for the coolers and tiki lights.