Ready… Set…. Remodel: Finishing Your Basement
A finished basement is a great addition to a home. Most people think a basement remodel is one of the easiest home remodeling projects to complete. More often than not, it is actually one of the more complex projects. Basements often have water and drainage problems, inadequate ceiling heights, old sloping concrete floor slabs, no insulation, and no easy way to connect the plumbing. And most people expect the basement to serve many purposes. Often the basement is designed to accommodate work and play, media rooms, storage and craft areas and many other uses. So unless you are looking for a simple, one-room remodel, be prepared to address a number of challenges.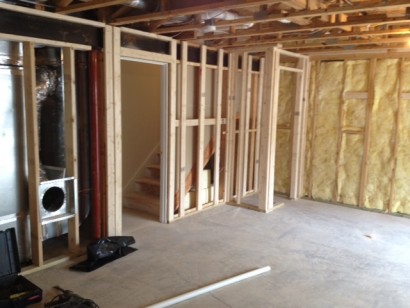 WEAVER'S TOP THINGS YOU MUST KNOW: FINISHING A BASEMENT
Don't Start to Work Until You Know It's Dry
Before you do any kind of finished work on a basement, make sure there won't be any water issues that could cause damage. Go outside and inspect the exterior walls for moisture problems. Make sure the ground is sloped away from the foundation walls. Also, check the downspouts, if they're clogged, it could be create a lot of moisture and bring it into the basement.
Check the Code Before You Pound a Nail
Once you have a design plan and you've checked for moisture, the next thing you should do is find out whether you need to get a permit for the proposed renovation. Also, make sure that everything pertaining to electrical work is done to code.
Suspend Your Ceiling Preconceptions
If you need to have access to electrical and plumbing systems in your ceiling, suspended ceiling tiles are the way to go. Otherwise, with a drywall ceiling, you'd have to create access panels.
Add Some Warmth at the Baseboards
Baseboard heating is an excellent choice for a basement. Normally the basement is the coolest room in the house, so choose a heating method wisely.
Don't Forget Your Egress
If a room will be used for sleeping be sure it has an egress window to the exterior. It's not safe to sleep in a room with only one exit.
Recessed Lighting is Your Friend
Recessed lighting is great for basements since you don't want fixtures hanging from a low ceiling. Because there's limited natural light, basement lighting is essential to brighten up the place.
We hope to see you soon!