We know its not exactly rocket science but when considering a new fence there are several items you should consider to ensure your investment in time and money will not only fit your needs today but into the future as well. We know a well-constructed attractive fence can greatly enhance the value and appeal of any property before undertaking your fence project, here are a few important considerations;
RVC's 8 major considerations for your fence project
The main function of the fence

security
boundary
confinement
noise reduction
privacy
decorative appeal
Materials used

The exact location of the property line
Any land use easements (right of use granted other persons who require passage through your property in order to access their own).
Any underground utilities present
Local zoning laws and building permit requirements
How plans will effect neighbors
Future family needs ( kids, animals, friends )
Gate locations and size
Here are some basic fence types of fencing to consider. The terminology for fences can be confusing. Below is a list of fencing types in the Maryland area.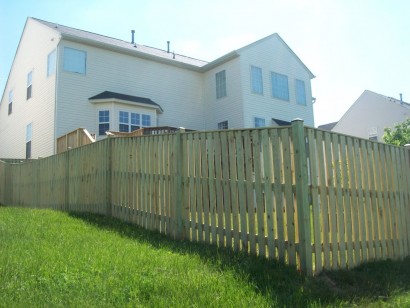 Board by Board- Also called "Side by Side". It is exactly how it's described. Pickets are placed next to each other and nailed. This is a good privacy fence but you can see between the pickets up close. We do hundreds of these a year and they are one of our most common fences. These can be done using 4 or 6 inch wide pickets 6 to 8 feet tall.
Board on Board- This fence is installed with a gap between the pickets and then a cover picket installed over the gap. This is the most private fence. These can be built using ONLY 6 inch wide pickets. The 4 inch will split! We can install this fence in a 4,6 or 8 foot configuration.
Shadow Box- These fences are great for properties that are in very high wind locations. The shadow box fence has staggered pickets placed on each side allowing wind to blow directly through them. Looking head on, you can't see through this type of fence, but at an angle, you can see directly into yards, If you're looking for privacy, this is not the fence you want. These do make great inner fences around gardens and pools.
Custom Fencing- We can build almost anything customers can come up with. We have built many custom fences tailored to our customer's wants and needs. Call us on these types of fences.
Ranch Board- This is a fence that is basically posts and 2×6 slat or runner boards stack 3 or 4 high. These are usually used to keep live stock contained and are a safer alternative to barbed wire.
Spaced Picket- This style of fence allow wind to flow freely between pickets; cementing posts is not necessary, but recommended. This style is simple to build out of components and easy to install if delivered in pre-built panels. Spaced picket styles of wood fence have a traditional appeal and have been very popular in the states for decades. Usually 4' to 5' height.
Cedar split rail fence- This is one of the most cost effective styles for defining boundaries, decorating property, and fencing in livestock and horses. Split rail fencing is also one of, if not the easiest style of fence to install making it an ideal project for the do-it-yourselfer. Posts are typically set directly in the ground approx. 30″ deep with concrete. Wire fence is often used for added security or protection.
Chain Link- These are the old fences we grew up with. They last forever but do not give you that great curb appeal that a wood fence does. We can get this in a lot of different colors that are coated using a colored rubber material.
Above is just a few of the fencing types we install. If you see something that's not there, just call us and we will custom build what you need. Remember to check out our gallery of the fences we install. We put up new pictures as we build new fences on our website www.river-valley-construciton.com. Let's make yours one of them. Call or Email our team for further information! (240) 674 6750