Hey Folks………. Looking to change or upgrade your living space? Adding trim can help you to match the style of your home whether going for a classical, craftsman, or a simple look. Trim can be elaborate or can remain quite simple
Molding and trim make an Impact from baseboards to crown molding, these details add width, depth and height to a boring room. One of the primary characteristics distinguishing a attractive room from a basic box is the attention to molding. In the cheapest construction, moldings will be minimal and undersized.
One of the easiest ways to upgrade a room is to beef up all the moldings, adding width, depth and height to the trim. Far from closing in a room, the increased framing adds depth to the walls, especially if it is painted the same color as the walls for a unified look. Interior moldings provide attitude as well as architectural interest.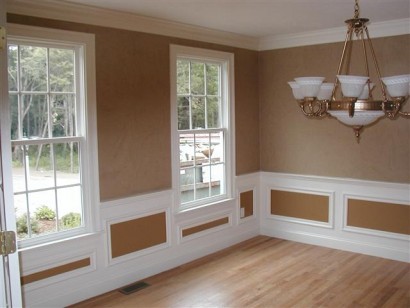 Weaver's Top list of Ideas to Consider!
· Base Moulding
· Supply and Install New Doors
· Window and Door Casing
· Bookcases and built-ins
· Paneled Walls and Wainscoting
· Crown Moulding
· Ceilings – Coffered, Tray and Beams
When adding custom trim, crown moulding tends to get the most response when people enter a room. We can work with you to design crown moulding that is right for you. Crown moulding can enhance many details in a home including walls, cabinets, bookcases, and built-in cabinets.
Ceilings can be treated with custom trim, mouldings, and beams. Coffered ceilings are created with beams and mouldings in a geometric shape to define an area. Coffered ceilings can define a room to set it apart from other rooms even if there are no walls to define the area. They can give a room a formal look but can also be used in a family room to break up an expansive ceiling. A tray ceiling added to a room with a low ceiling will give a perception of more height or grandness. Ceilings can also be enhanced with the addition of beams. River Valley Construction will work with you to determine the best type of ceiling for your space.
With a strong background in home renovations , River Valley Construction can work with you to design a moulding scheme that complements and revitalize your home. Our highly skilled team of professional tradesmen can satisfy all your needs. Each project is covered by general liability insurance. All projects are supervised by owner every day.
How Can We Help? Contact us today for a free in home consultation! See you soon.